Grandma, What Is Your Name?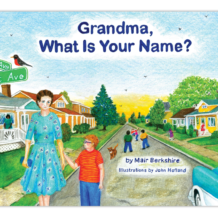 A boy from Cleveland learns about himself by asking his grandma what her name is.
"There is no such thing as an uninteresting life." Mair Berkshire
by Mair Berkshire, Illustrations by John Hofland
==================================
Hard cover 8.5" H, 11.5" W, 48 pages, including 6 Ancestry Records pages
Published by Hot Metal Publishing, Inc.
216-702-3597 www.hotmetalpublishing.com
Copyright 2023 by Hot Metal Publishing, Inc. ISBN 978-63944-104-4
Review by C.J. Sanders
One of the great mysteries of life to a young child is finding out that adults have names – not just titles. In this book, Bernie, a 10-year-old living in Cleveland, Ohio, spending the weekend at his grandma Carey's home, out of the clear blue, asks his grandma what her name is. Her answer and all of his ensuing questions, springing from his boundless curiosity, spurs her to talk about her life, her parents, her husband . . . and this wonderous information spills into his consciousness and he becomes the next version of himself in the process.
He finds out who his great-great-grandparents were, that they came from Eastern Europe to the United States in the 1800s, overcoming fear and the unknown; that his great-grandfather had a vegetable stand at Cleveland's famous Westside Market in the 1930s and '40s, where his grandma worked after school. He learns that his grandpa works in one of Cleveland's many steel mills and what steel is; that grandma was a concierge and what that is, and many other facts of his family's life. Most of all, Bernie learns that he will take the best parts of himself and those who came before him and decide who he will be and what he wants to do for a living as an adult. By the time Bernie returns home Sunday afternoon, he knows what he will be when he grows up . . . you have to read the book to find out!
The author, who is fascinated by her own ancestors and their personalities and skills, has placed an Ancestry Pages section at the end of "Grandma" for parents or grandparents to fill in the names and some details about their child's grandparents, great-grandparents, their origins and family lore.
The Illustrator, John Hofland, captures the images of Cleveland landmarks perfectly – Franklin Castle, the Westside Market, the Public Square Arcade, Terminal Tower, the blast furnace of a steel mill . . . for those who know Cleveland, it will be nostalgic in some ways; to those who don't know Cleveland, it is a visual introduction to a significant, often overlooked city in America's fabric.
"Grandma, What Is Your Name" is a beautiful book about families and the story of all of us, no matter where we live or what our roots may be.