Great Trips with Grandchildren – Affordable, Too!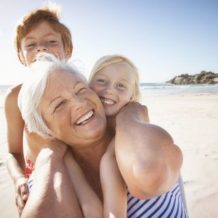 By Joanne Orinda
Whether you are going on a multi-generational vacation, or if you just want to take your grandkids on a trip, it's important to do your research. In this tight economy, and for those of us on a fixed income, research and planning is the key to a successful vacation full of lifelong memories.
Yellowstone National Park: It's no cliché that our national parks are our national treasures. These wild spaces offer visitors a glimpse of what the land and nature looked like before our modern civilization. From giant buffalo, to grizzly bears, to enormously-antlered elk, and crystal-clear lakes, geothermal pools, waterfalls, and much more – Yellowstone is a must-see for the whole family. And although there are plenty of opportunities for back-country adventurists, many of the highlights of Yellowstone are easily accessible by car and short walks – making it perfect for those of us (young and old) who get tuckered out quickly! This is also the perfect getaway for those of us with campers or prefer to stay in one of the many beautiful lodgings found in and around the park. The Old Faithful Inn is more than 100 years old and considered the largest log structure in the world, but book early – it's also the most-requested lodging facility in Yellowstone.
Washington, D.C.: No matter your affiliation or views on the state of politics today, visiting our nation's capital should be required for all citizens. There is so much to see and do that you could easily spend two weeks here. Thankfully, many of the best parts of D.C. are free to visitors and easily accessible for little legs (and older legs!) that get tired faster than others. The Smithsonian Institution alone consists of 17 museums, galleries, and a zoo – all with free entry. The National Mall has plenty of attractions to entertain you for at least an entire day, including the Washington Monument, to the Vietnam Wall, to the Lincoln and Jefferson Memorials – all within walking distance and absolutely free. Try sitting in on a Supreme Court ruling, pay your respects to President Kennedy at the eternal flame at Arlington Cemetery, or check out the lesser-known, but photo-worthy areas, like the incredible outdoor murals on Shaw's Blagden Alley. Or hang with the celebrities at Madame Tussauds, experience the life of Washington at his home in Mount Vernon, and get an up-close look at Lincoln's last hours at Ford's Theater – all at a minimal cost.
Houseboat camping: There is nothing like camping…especially when everyone has a bed and a flushing toilet and shower. Days are filled with swimming, fishing, and exploring the local areas, while evenings consist of family cookouts, stories, and games. For those with an adventurous streak, there are all kinds of motorized toys for the young and young-at-heart. Considering the number of people that can be accommodated, there is a high value for each dollar spent.
Stay-cation: Regardless of where you live, local history is an important part of making the community a home to your grandkids. Many major cities, and smaller ones, have walking tours available, that detail local landmarks, historic sites, and even ghost tours. It's essential to tailor this experience to the interests of your grandchildren. Most kids find history boring because it's presented as fact – not a dramatic, perilous, heroic, and tumultuous series of events that were enveloping the inhabitants at the time. You can research these local highlights and provide connections to the interests and lives of all involved. Try creating your own scavenger hunt based on the places you will visit. Although this may take additional effort and time on your part, it will be a huge cost savings on entertainment and will provide priceless memories for everyone. J.O.