A Grandchild's Perspective of a Reverse Mortgage Loan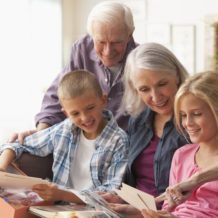 By James Fostmeier, Fairway Independent Mortgage Corp.
I'm the Reverse Mortgage Marketing Manager at Fairway Independent Mortgage Corporation. I have heard some positive stories of why people have gotten a reverse mortgage loan over the last ten years working with reverse mortgages. During my first year working in the lending industry, I was a loan processor, I knew nothing about reverse mortgage loans, and I was about to process my first one.
The client was going through hard times and lost his job and struggling to make his mortgage payment. To make matters worse, he had paid off over 50% of the equity in his home, and the bank was going to foreclose on the house. He didn't want to lose the home he was living in and had made payments on over all these years. A reverse mortgage loan would allow him to keep his home title in his name and be able to have no more mortgage payments, except for taxes, insurance, and maintenance — as long as he met all the loan terms. We got the loan done for him, and after the loan closed, he stopped in a week later at our office with two homemade pecan pies to thank us. It had sounded too good to be true that somebody could go from facing foreclosure to being able to continue to live in their home.
There are many different uses for a reverse mortgage that I have learned over the years. In my opinion, one of the more compelling ways was having the opportunity to gift home equity while you're alive. Let's face it gifting a home's equity after death isn't the most comfortable asset to split up, and selling a property takes time and can cause family feuds. One couple realized this and withdrew $30,000 out of their line of credit from the proceeds of a reverse mortgage and gifted $10,000 to each of their kids. They said that the kid that handled the money the best would be the one in charge of managing the estate.
While most people don't have the means to do that, I'd much rather see a family use the proceeds to help pay for general living expenses, healthcare, gas, and rising food costs.   Wouldn't it be nice to budget a little bit more with the increased cash flow you will gain from getting a reverse mortgage? Perhaps you want to gift some additional funds to that special someone who is struggling with their first years in college or needs help because their car broke down and they can't afford to fix it. Additional cash flow could also create more time with family, perhaps cooking more of those tasty crockpot roast beef dinners along with a homemade pie, as my Grandma does when I visit her.
Then there is caregiving. Being a caregiver is not an easy job. I know I don't have the level of patience required to give somebody the high-level of care they need. Long Term Care (LTC) costs are continuing on the rise, and the government doesn't provide you the luxury of choosing where you want to stay. It's important to understand that Medicaid is an income-based LTC program designed for low-income people. Qualifying for Medicaid is getting more complicated. They have a look-back period intended to prevent applicants from giving away assets or selling them for less than the fair market value in order to qualify for the program. With a reverse mortgage loan you could use the proceeds to help pay directly for the care, if you need it or cover the LTC  insurance costs if the need arises. This article is not intended to give legal, financial, or tax advice.  I recommended that your family seek out a qualified and experienced elder law attorney.
Modernization isn't the only need for retirees to upgrade their homes, but often there is a need to renovate so you can continue to live at home. It's far more cost-effective to live at home and get in-home care than it is to live in a long-term care facility. Even with cheaper costs, it tends to be a lot harder to get government assistance for upgrading a home than going into a facility. The cost of remodeling can get pretty expensive pretty quickly when you need to make ergonomic kitchen and bathroom updates. Technology updates are making it more cost-effective now to live at home and monitor your health, with features such as having a watch that detects falls, reminds you when to take medications, provide built-in GPS (if you get lost) and voice activation to connect you with an emergency operator. How about installing a lighting system that makes late-night snacking easier? Imagine every time you get in and out of your bed, your lights turn on and off, triggered from a sensor in your bed and notifying somebody if the lights stay on too long. The key is that now you're able to track vital health issues such as blood pressure, heart rate, oxygen levels, and communicate that information with everyone in the patient's circle of care in real-time.
Maybe renovation and modernization isn't your thing. You could purchase a house with a reverse mortgage loan with 30-70% down and have no mortgage payments, except for taxes, insurance, and maintenance. The down payment required is determined on several factors, including borrower(s) age (and non-borrowing spouse's age, if applicable); current interest rates, and the lesser of the home's appraised value or purchase price.
I know when I turn 62, I'd like to be able to utilize the purchase power and flexibility a reverse mortgage offers and buy a home or condo down south with a pool.
What is the legacy you want to leave behind to your heirs? Possibly to be able to teach them how to handle finances, remember you from trips you took together, help with unexpected family expenses, or helping them with unforeseen expenses?
More importantly, what is best for you? I know I would rather see my grandparents live a more comfortable life with the money they earned, than inherit a home free-and-clear, after they pass away.
There are so many different uses for a reverse mortgage that it makes sense to take the time to talk with a reverse mortgage planner and share your story with them, so they can share ideas on how a reverse mortgage could help you. I encourage you to call a local Fairway Independent Mortgage Corporation Reverse Mortgage Planner, not just because I work there, but also because I know the required training they take and the great personalities they have. To find a local reverse mortgage planner check out our website at fairwayreverse.com or call us toll-free at 800-754-7019.
Copyright©2019 Fairway Independent Mortgage Corporation ("Fairway") NMLS#2289. 4750 S. Biltmore Lane, Madison, WI 53718,1-866-912-4800. All rights reserved.
[Fairway is not affiliated with any government agencies. These materials are not from HUD or FHA and were not approved by HUD or a government agency. Reverse mortgage borrowers are required to obtain an eligibility certificate by receiving counseling sessions with a HUD-approved agency. Youngest borrower must be at least 62 years old. Your monthly reverse mortgage advances may affect your eligibility for some other programs. At the conclusion of the term of the reverse mortgage loan contract, some or all of the equity in the property that is the subject of the reverse mortgage no longer belongs to you and you may need to sell or transfer the property to repay the proceeds of the reverse mortgage with interest from your assets. We will charge an origination fee, a mortgage insurance premium, closing costs or servicing fees for the reverse mortgage, all or any of which we will add to the balance of the reverse mortgage loan. The balance of the reverse mortgage loan grows over time and interest will be charged on the outstanding loan balance. You retain title to the property that is the subject of the reverse mortgage until you sell or transfer the property and you are therefore responsible for paying property taxes, insurance, and maintenance and related taxes. Failing to pay these amounts may cause the reverse mortgage loan to become due immediately and may subject the property to a tax lien or other encumbrance or to possible foreclosure.
Interest on a reverse mortgage is not deductible to your income tax return until you repay all or part of the reverse mortgage loan. This is not an offer to enter into an agreement. Not all customers will qualify. Information, rates and programs are subject to change without notice. All products are subject to credit and property approval. Other restrictions and limitations may apply.
Fairway is required to provide the following licensing information: AZ License #BK-0904162. Licensed by the Department of Business Oversight under the California Residential Mortgage Lending Act, License No 41DBO-78367. Licensed by the Department of Business Oversight under the California Financing Law, NMLS #2289. Loans made or arranged pursuant to a California Residential Mortgage Lending Act License. Georgia Residential Mortgage Licensee. GA Mortgage Lender License #21158. For licensing information, go to www.nmlsconsumeraccess.org. MA Mortgage Broker and Lender License #MC2289 (Note: Fairway Independent Mortgage Corporation is not a lender for reverse mortgage products in the state of Massachusetts). Licensed Nevada Mortgage Lender. Licensed by the NJ Department of Banking and Insurance. Licensed Mortgage Broker – N.Y.S. Department of Financial Services. TX Location: 1800 Golden Trail, Carrollton, TX 75010. Rhode Island Licensed Broker & Lender. Fairway Independent Mortgage Corporation NMLS Entity ID #2289 (http://nmlsconsumeraccess.org/ EntityDetails.aspx/company/2289).