Grandparents and Yoga – Model Positive Physical Behavior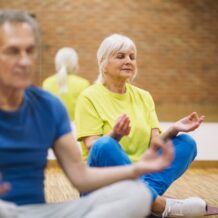 An excellent shared physical activity for grandparents and their grandchildren is yoga! Practicing yoga asanas (poses) together, provides a gentle, but effective, exercise regimen that also stimulates the deeper parts of our personalities for all ages and genders. Yoga has long been known to effectively treat hypertension, heart disease, weight control, stiffness of joints, anxiety, depression and develop and maintain muscle tone and energy. It can also ward off many of these negative conditions before they develop, making it the perfect way to keep up with the younger generation! Because grandparenthood can begin in the mid-40's, it is important to get a jump on health right away.
Another important aspect is that you can model positive physical behavior to your grandkids. Rather than lecture them about getting off of their electronic devices or video games and be up moving around, you can teach and lead by example.
There are a large number of excellent yoga DVDs available for home use, instructional videos online or even better, yoga studios sprinkled throughout urban and suburban areas. You can take classes with your grandkids when they are visiting or if they live close by, daily or multi-weekly sessions and because yoga is still considered "hip" you can seem like the "with-it" grandparent at the same time! You can bake some chocolate chip cookies together, then go work them off ahead of time with a good yoga session!